To increasing the core business process and industrial purposes, an outsourcing process is must necessary for the engineering industry. Reducing industrial pressure, lack of knowledge, to save cost, time and to avoid industrial hazards, companies are outsource engineering services to global or individual engineering service outsource provider.
Cutting Edge Outsourcing Solutions to Engineering Services
Delivering agile, robust, and advanced engineering solutions are the biggest concern of outsourcing services provider. Understanding the current strategies and planning and building strong and innovative solutions without any business hazards will be handover by the trusted company.
Sam studio is the globalized outsourcing engineering service providing vendor delivers multi-purpose of engineering solutions to our customers from all over countries. Our team of engineering professionals, technology experts, architects will efficiently understand your focus of needs and find the factors to improve your business. Our wide range of outsourcing service not only serve engineering industry, it also supports all kinds of business industries etc.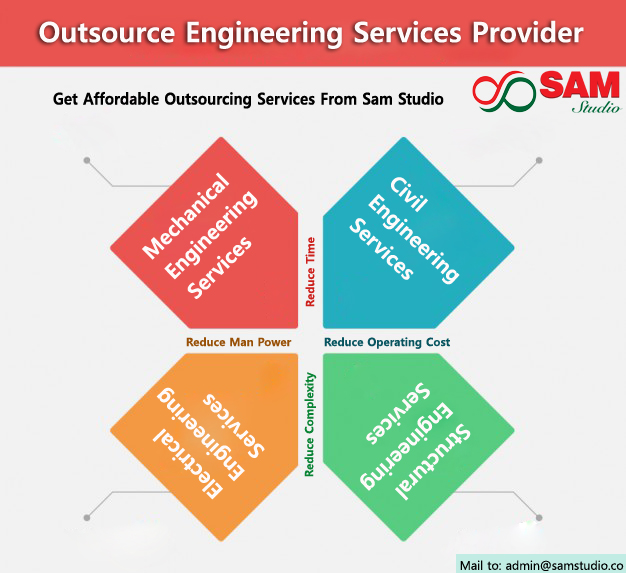 Key Areas of our outsource engineering services
Sam studio following four types of key process to support your business. Those key factors are followed as,
Create
Validate
Build
Support
Why outsource engineering services to Sam studio?
Low operational cost
Save time
Save manpower
Quality outcomes
24 hours customer support
Types of Engineering Services
Electrical Engineering Services
Electrical engineering circuit design services
Digital microprocessor design
Analog electronics design
Power electronics design
Electrical layout design services
PCB design and layout services
Electrical instrument development services
Civil Engineering Services
General civil engineering services
Structural civil engineering services
Environmental engineering
Fire protection engineering
Geotechnical engineering
Hydraulic engineering
Water resources engineering
Construction engineering
Materials science
Surveying
Transportation engineering
Mechanical Engineering Services
Plant designing
CAD Conversion services
Migration services
3D modeling and 3D animation services
2D drafting and rendering services
Reverse engineering and finite element analysis
Structural Engineering Services
Industrial structure design and analysis
Custom home design and analysis
Finite element modeling and
Finite element analysis
Architectural Engineering Services
3D rendering
Landscape design and modeling
3D architectural and 3D animation
The skilled professional at Sam studio capitalizing the key ideas and working to delivers qualitative outcomes within swift turnaround time and within your budget level.