Data management services
In digital world maintaining data information is significant. Every industry has data & information about their employees, business records and other confidential records about the company which is a mandatory process. With Data management service multimedia data and other large data files can be stored. SQL language is used for database management. Data management service for industrial services for healthcare services, government oriented services, legal accounting, construction & manufacturing, distribution, rental and education database management services.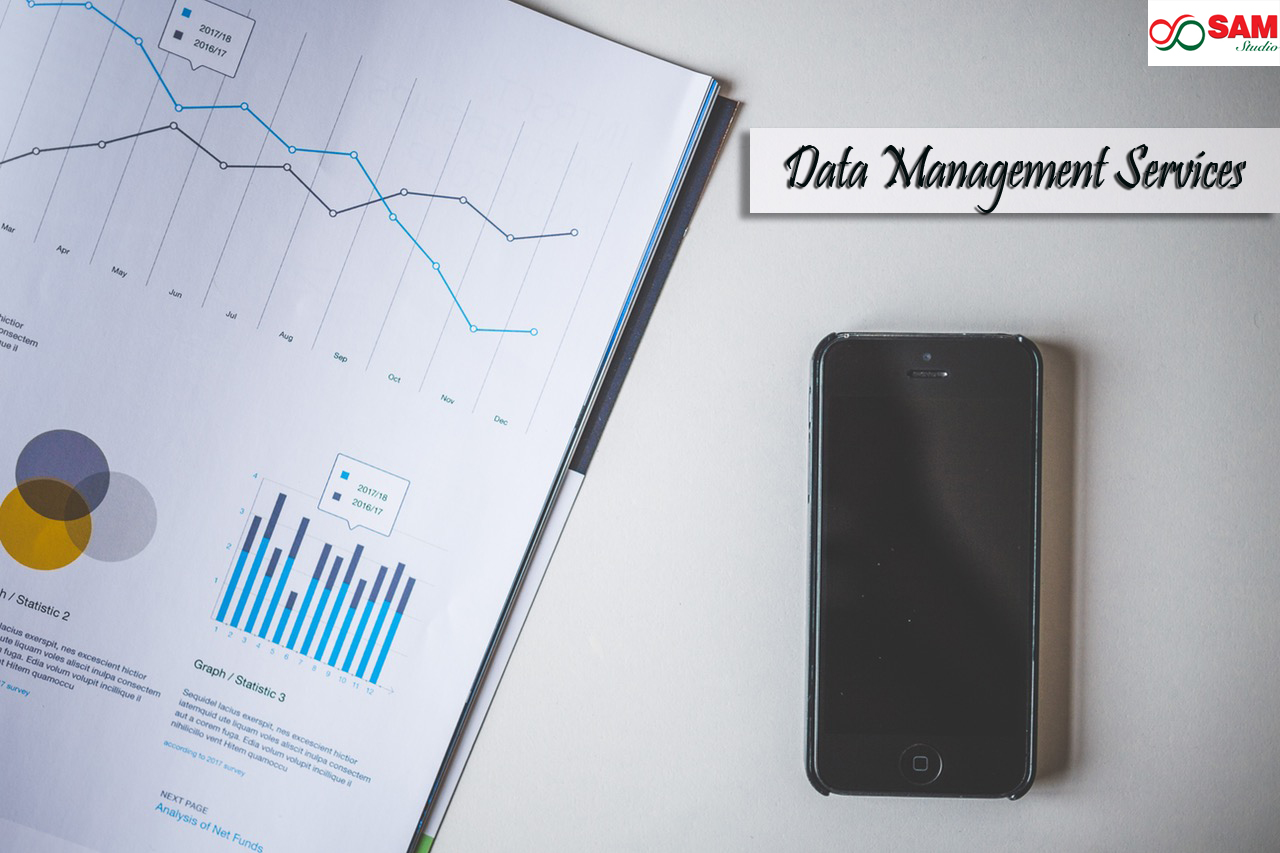 Sam Studio provide multiple platforms of resources in database management. Which are remote/wireless database administration, database monitoring & support services Application and uses of database management services are Airline & Rail reservation system, Library, and College records management's system, Banking, Credit card transactions, Social media sites, Telecommunication, Finance, Military, Online shopping, Human resource management and Manufacturing. Our specialized services for data management services include
E-governance data management services:
The government supposed to maintain confidential data's and information. We offer highly secure data storage and transmission services for e-governance using cloud file transfer system. The main task for e-governance is to maintain updated records of the population and other government tenders and much more. Our expertise can handle multiple cloud drives for storage purposes. Data management services we handling by
Master data management services
Metadata management services
Data quality management services
Data acquisition management and integration
Test data management and data archival
Data management services for Telecom industry:
Telecommunication industry is an open platform for business development. Essentially it is a cost effective process. Our professionals are experts in handling multi-language data's. Telecommunication management service is used in areas like customer administration, traffic management, management of customer access, common channel signaling system management, staffs work scheduling. Our services include
Business intelligence services
Data entry services
Performance management services
Data management services
Platform optimization
Web research services
Cloud-based computing
Scanning and indexing services
Database management for Banking:
The role is database management in the banking sector is more significant for handling and creating accounts, deposits/withdrawal of cash from the account. Our services make online transaction safe & secure. Credit card transactions database can be maintained which used for online shopping and all other online transactions.
Data security, data Backup & recovery
Performance analysis and tuning
Upgrading database
Clinical data management services:
Clinical data management services are the process of collecting clinical research data and use them when it is necessary. This data is used to accelerate drug development. Our areas of expertise involve pharmaceuticals, biotechnologies and medical devices. Clinical data management services based on these functions of Data cleaning, data analyzing and report. Our clinical data management services include
Medical coding
Query management
Data export/ Transfer
Health check services
On/Offshore clinical data management services
Clinical database transfers
Maintaining drug dictionary
Biometric information & data management services:
The biometric data management system is used to transfer secure information through the cloud. Biometric data provides workflow data management & formatting with applications fingerprint recognition face recognition and iris recognition system. Biometric data enables centralized system administration and user management. Our services in biometric applications data management system include
Mobile biometric authentication
Law enforcement
Defense
Citizen ID & voting system
Integration of automated biometric identification system
Automated fingerprint identification system
Our other services in data management services
Big data & analytics management services
Business analytics management services
Social media analytics data management services
In memory computing data services
Calgary
Managed cloud storage
Formation description logs
Types of data Source format stability and volume
Query processing
Screen generation
Report generation
Networking / concurrent access
Warehousing
Advantages of database management services:
Data & information Security
Backup & Recovery for data
Data Sharing
Multiple User Interface
Controlling Data Redundancy
Enforcing Data Integrity
Data independence
Reduced data maintenance
Sam Studio outsourcing company offer high-end data management services with our expertise with 24/7 customers support. For more details contact admin@samstudio.co