Graphic Design Services:
The business world has increasingly driven by visual contact, in which visualization comfort in communicating with the customers. Graphic design Services creates a high impact in the marketing campaign. Graphic design services are the accessible origin for your brand and business promotion. Graphic designing is an artwork which creates a direct impact on customers. Our digital artist has years of expertise in graphic designing.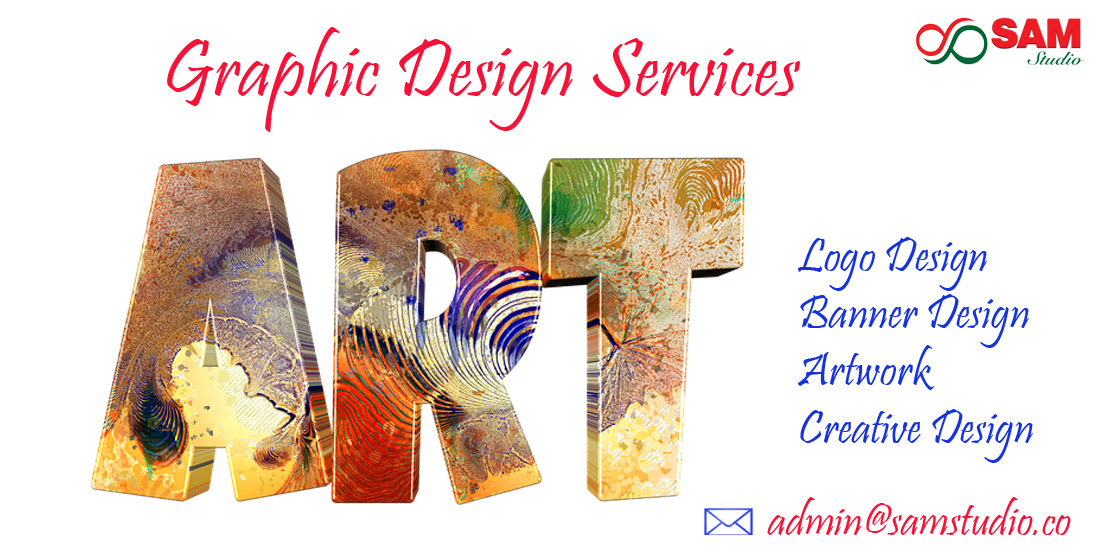 With our expert designing team, Sam Studio offers creative and unique graphic design services for your business branding and website. Our graphic designer's expert in using tools like coral draw, Illustrator, Photoshop design. Our professional and creative services involve
Logo Design Services:
We construct a Monumental logo design by integrating the standards of your brand. Our web designers create a unique and original logo design for your business which will firm you apart from your competitors. Logos are the graphical symbol to identify your business. Our specialized design will be based on the industry services and letters. Our desire is to advance your business with our outlandish logo design. Our professional designing services include corporate logo design, business logo design, industrial logo design, animated logo design.
Our specialized logo design services involve
Logo & brand identity design services
Business cards design services
Logo & business card design services
Logo design services
Logo & hosted website design services
Logo & social media design services
Stationary design services
Banner Design Services:
Banner is an illustration which consists of text, colorful graphics which import advertising information to global customers for promoting business. Banners are the key aspect of marketing. Banners become an adequate tool to promote your brand and product to targeted crowd. Our artist is expert in designing all types of banners like flash banner, static banner, web ad banner, animated banner ads and much more banner design to satisfy your business needs.
Our digital Banner design services involve
Billboard designing services
Booklet design services
Brochure design services
Car and truck design services
Direct mail design services
Email & newsletter design services
Infographics design services
Leaflet design services
Menu design services
Business advertising services
Pamphlet design services
Postcard and flyer design services
Poster design services
PowerPoint template design services
Resume design services
Signage design services
Trade show banner design services
Trade show booth design services
Website header design services
Word template design services
Artwork Services:
Artwork creation requires a high level of finesse and artistry. In competitive business world marketing divisions looking for the dual strategy. Our digital artists are expert in vector artwork conversion services like Bitmaps, raster images such as jpegs and tiff files into digitized formats. Our expert artist creates images quickly and easily without losing the quality of the image. Sam Studio offers artwork services for designing companies, marketing firms, publishing agencies and much more industries.
Our specialization in artwork services involve
3D designing services
Album covers design services
Book illustration design services
Business illustration design services
Card or Invitation design services
Character or Mascot design services
Greeting Card design services
Illustration or Graphics design services
Invitation design services
Wedding Invitation design services
Pattern design services
Tattoo design services
Website illustration design services
Our other added services include
Web & mobile app design services
Packaging & label design services
Book & magazine services
And much more designing services
Sam studio offers artistic and innovative graphic designing services for On & Offshore companies in quick turnaround with affordable cost. We provide 24/7 customer support services. For free trial send your sample images to admin@samstudio.co