High-End Image Enhancement Services:
Taking images is all about grabbing unforgettable flash on the camera. In whatever accuracy the photo has been shot there may be some disturbance with which require high-end image enhancement services. Sam Studio equip extraordinary High-end image enhancement services to photo studios, image editing agencies, digital photographers, eBook editors, real estate agents, online art galleries, web designers, webmasters, catalog publishers and much more.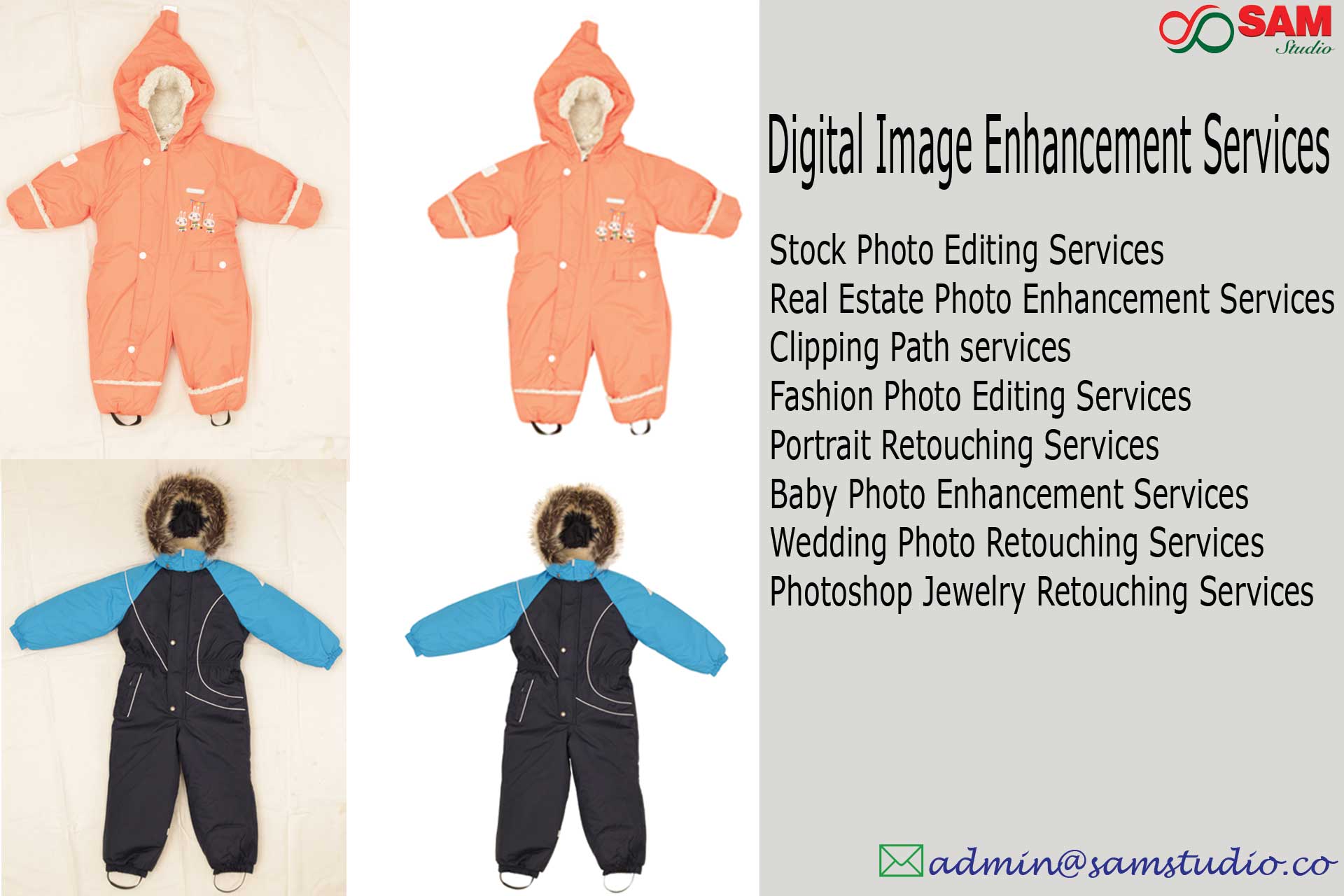 Our professional graphic artist has years of expertise in enhancing images, who can skillfully enhance your images with our high-end image enhancement services.
Sam Studio expertise in High-End Image Enhancement Services Associate
Removal of Red Eye
Damage Repair Services
Teeth Whitening Services
Cosmetic Enhancement Services
Image Cropping Services
Color Balancing Services
Color and Exposure Adjustment Services
Correcting the Shape and Size
Removing the Blemishes
Merging the Images
Removing Unwanted Objects
Skin Texture Correction Services
Enhancing the Features
Removing or Restoring the Elements from the Photo
Improving and Enhancing the Face and Body Parts
And Much More High-End Image Enhancement Services
Digital Photo Editing Services:
Fair, dynamic, sparkling Photos are the most persuasive tool to transfer the appropriate message to the audience. Digital photos add appeal to the visitors. With digital photo editing services, we equip for real estate image processing, image enhancement, photo manipulation, photo clipping, and panorama maps, etc. Sam Studio Professional designers can effectively beautify your photos through our digital photo editing services.
Sam Studio Digital Photo Editing Services involve
Hair Masking Services
Digital Body Sculpture
Image Conversion Services
Drop Shadow Effect Services
Braces Removal from the Photograph
Digital Stock Photo Editing Services
Photo Correction Services
Removing Background Services
Event Photo Editing Services
Neck Adding Services
Professional Photography Retouching Services:
Professional Photography Retouching is the process to edit & enhance photo quality to add more attractiveness to the photograph. Retouching business not only makes marvelous photographs, this improves the respective client organization. Elegant modification and skin smoothing are significant in professional photography retouching services.
Our wide range of professional photography retouching services  
Wedding Album Retouching and Design Services
Wedding Photo Retouching Services
Portrait Retouching Services
Ecommerce Product Photography Editing and Retouching Services
Fashion Photo Retouching Services
Food or Cuisine Retouching Services
Furniture Photo Editing and Retouching Services
Baby Portrait Retouching Services
Fashion Model Retouching Services
Photoshop Jewelry Retouching Services:
In jewelry business, pretty images are necessary to improve your business. Whether you have online store or land based boutique store the appearance of the product makes the difference in the business. With jewelry Photoshop retouching services our experienced professionals skillfully enhance your stock product would be excellent.
Sam Studio expertise in Photoshop jewelry retouching services involve
Color Adjustments Services
Improvement of Gemstone and Precious Metal Color Retouching
Natural Shadow Creation
Removing Dust and Remove Poor Reflection from the Jewelry Image
Having Stone Much More Shinning
Advantages of High-end Image Enhancement Services:
Expertise on handling Adobe Photoshop and other advanced graphic designing tools
Cost-effective Services
Extensive industry experience
Quick time turnaround
International quality standards services
High-end data security
Sam Studio outsources innovative High-End Image Enhancement Services–Digital Photo Editing Services with our talented professionals. We equip 24/7 customer support. For free trial send your sample images to admin@samstudio.co