Email Marketing
Among the glut of marketing tactics, Email Marketing is considered as the most popular process that every firm is believed in. "Sam Studio" collaborates with our Digital marketing Team who can effectively create, send and manage the Email Marketing Services. Dynamic contents are created by our experts which attract the attention of your targeted viewers.  Our team will update the details like delivered mail, bounced mail, opened mail, unopened mail in order to ensure the delivery of mail. A real-time spam prevention was available to ensure the deliverability.
Contact Management:
Our professional Email Marketing service will deliver the best in our marketing service so you can reach your targeted visitors and make them as your valuable customer. We can create custom  demographic segments to attain your goal on your business. On viewing the full detail about your existing contact, our professional will create an interactive email.
Email Creation:
Email Creation includes the process of customized database names, User-friendly templates, dynamic content with necessary charts which explain the latest updates, relevant news about your firm. On spreading your latest updates among your current and prospective customers will keep them updated on the advanced features of your company.
Email Sending and Reporting:
"Sam Studio" makes easy sending of emails directly to your customer's inbox. With your effective email build a strong relationship with your clients. We are providing a follow-up communication that creates an exclusive interaction among your customers to clear their doubts. Our detailed email sending a report includes the exact details about to whom the email received, whether they opened the mail or not and how any times the mail was opened likewise the detailed was mentioned.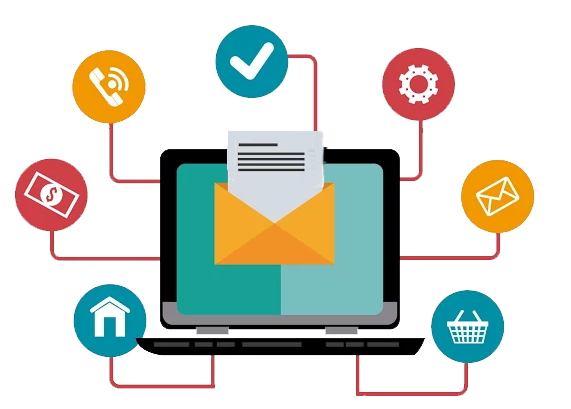 Our advanced tracking, as well as reporting features of email, make a way to get an accurate email report by graphs or by bar or pie chart. This report explains the full activity of the delivered email. Sometimes, the mail may block as spam. At that time, our experts focus on the correct address and recover the mail that was stored in spam box due to bad addresses.
Automated Email:
We are setting up automated emails, making use of our inbuilt segment. Relevant content was updated before delivering. It provides a fabulous one to one conversation that makes the new segment attract your targeted visitors in a smarter way. Automation is generated by the trigger follow-up based on the customer contact data as well as behavioral data on your site.