E-Commerce Web Maintenance Services:
Modern shoppers prefer online platforms to comfort their shopping. E-commerce web maintenance is crucial to meet the customer prospect. E-commerce is remarkable competitive businesses which require daily updates according to modern business trend to stay in the E-Commerce business. Without E-commerce web maintenance services one cannot attain a constant place in the E-commerce business.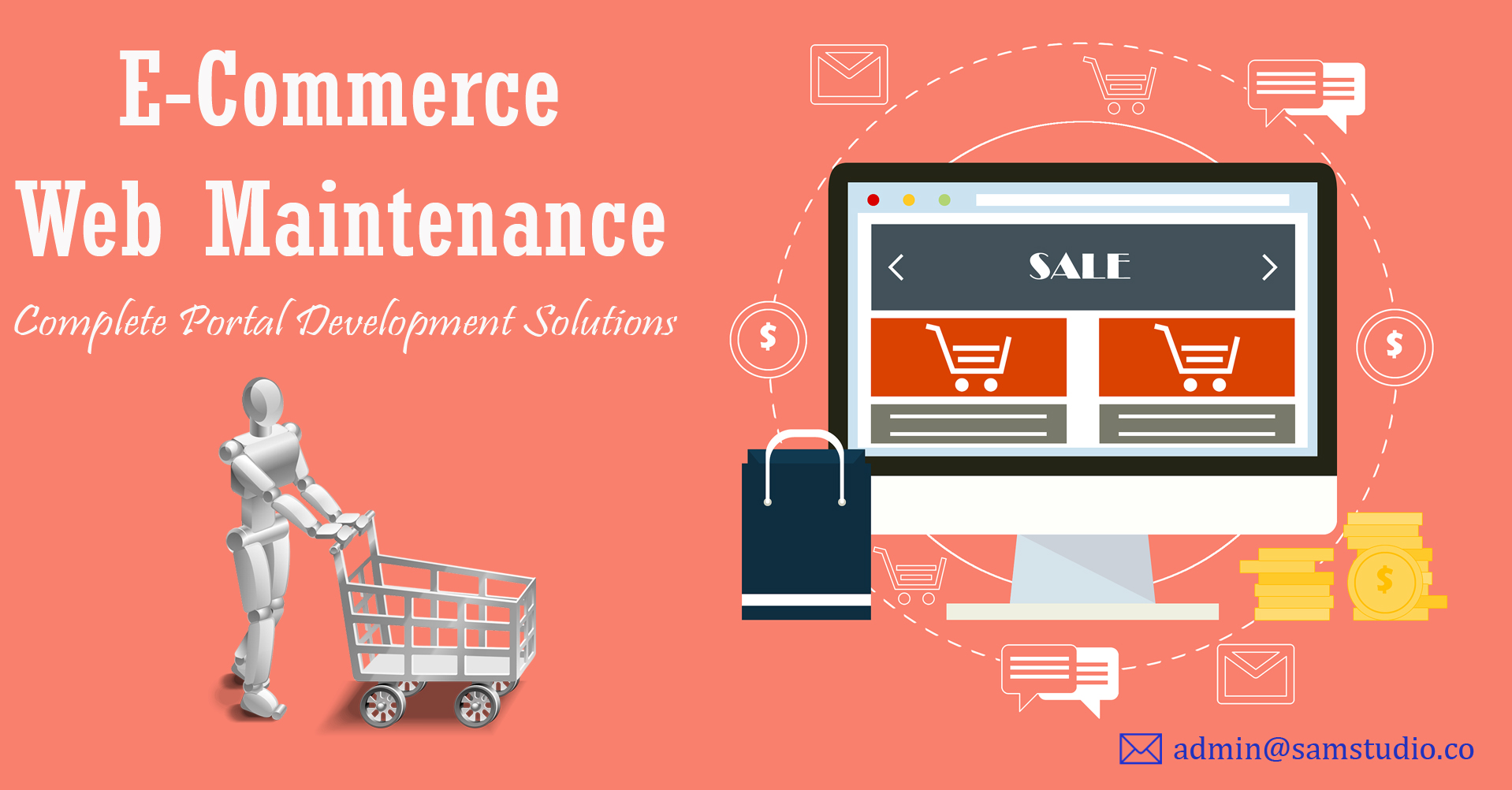 E-Commerce web maintenance services benefit in building your brand reputation and fascinate customers. Sam Studio provides E-commerce web maintenance service according to client specifications.
E-Commerce Web Maintenance Services we offer
Instant updates for websites such as product listing additions and deletions
Graphic design, image optimization, and banner creation for new arrivals, discounts, new launch and much more
Periodical checkup and analysis for website performance
Content creation / content update for e-commerce websites
Removal of virus, bugs and browser incompatibility with e-commerce Security management
Performance checkup for servers by creating user-friendly features
Periodical database backup for e-commerce websites
Website visitors report (weekly, monthly)
Add, Edit and Updating contents for e-commerce websites
Backup database on clients demand
Web site content management system core and plugin update
Analysis and checkup to ensure forms are working perfectly and working of inquiry emails sending and receiving
Checkup for broken links on the website
Identifying 404 errors & redirect or resolve to working URL
Third party application integration
Phone & email support
Consultation and suggestions for design aspects/ on site performance
Day-to-Day/ Daily E-Commerce Web Maintenance Services:
E-Commerce websites are popularly known as dynamic websites. Day-to-day/daily e-commerce websites updates with promotional banners, holiday notifications, new page and small front-end changes for quick business turnarounds. Daily web maintenance services involve regular updates for contents, offers, new arrivals, much more.
Weekly E-Commerce Web Maintenance Services:
Some e-commerce websites require weekly updates. Our specialization in weekly maintenance services involves data backup, code backup, content update, website traffic, server and web hosting, software and security update and much more.
Monthly E-Commerce Web Maintenance Services:
Sam Studio offers E-commerce web maintenance services for your complete business website. Sam Studio expertise in monthly web maintenance services such as Price updates, product changes, out of print/ product demand, half variety changes, evaluating checkout process, checkup website forms, monthly backup database check is broken links and much more.
Benefits of E-Commerce Web Maintenance Services:
Dedicated account manager to grasp about the requirements of your business
Online Project management dashboard
Day-to-Day update on websites
Inventory update for e-commerce websites
Research and analysis for store improvement
Speed optimization on e-commerce websites
On Site SEO for ranking and gaining more traffic for business development
With our team of dedicated professionals, Sam Studio offers creative and innovative website maintenance service for your e-commerce business. We provide 24/7 customer support. For more information contact us on admin@samstudio.co