Image Skin Smoothing Service, Image Background Cleaning Service, Image Noise and Color Tint Reducing Service, Glamour Portrait Image Retouching, Fashion Image Editing Service
Glamour Photo Retouching
High-End Glamour Photo Retouching Services – Get your model photographs retouched with Professional Glamour Photo Retouching Services. Enhance your model photographs in order to outsource them. A model photographer can only shoot photos that are not fully detailed and that can also damage your photographs in order to overcome these problem model photographers must feel free to contact a Professional Glamour Photo Retouching Service.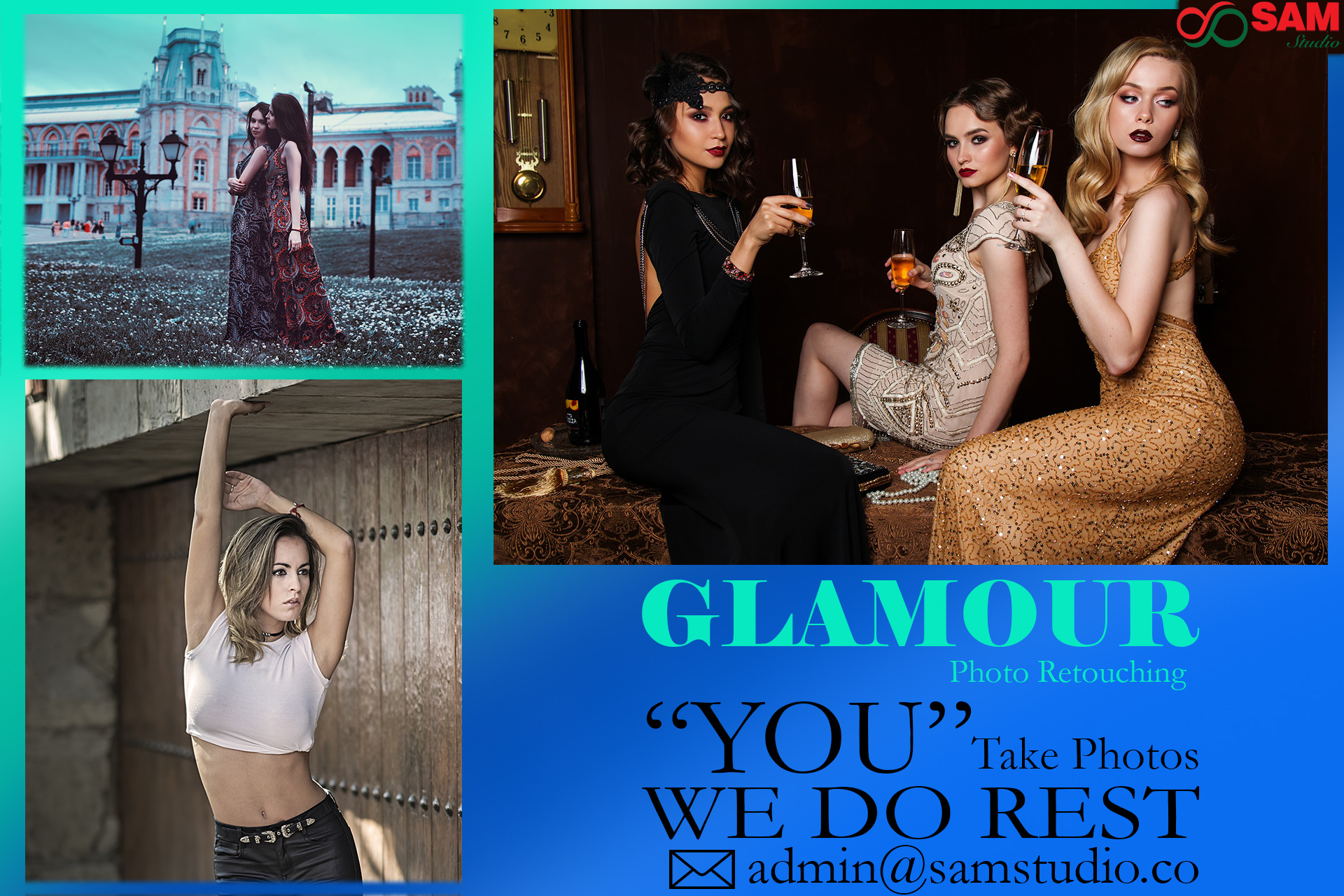 We develop standard quality photographs from the hands of experts in our image editing team, because they involve many factors on retouching model image services some of them are like color correction, natural shadow creation, skin retouching, Model teeth and Model eye whitening, virtual weight reduction, culling of model images, red eye reduction, reducing photography defects, adding and removing people, reduction of distracting hairs, color correction, exposure corrections, enhancement, glamour addition, body retouching, face retouching, dodge and Burn effect, Background Changing, Ear Retouching, Lips coloring, Wrinkle removing, object removing, removing stray hair, adding hair
Some of our services involved in Glamour Photo Retouching Services are as follows
Skin Retouching Services
Color correction/color cast removal services
Brightness and contrast adjustment services
Shadows and highlights adjustments services
Cropping/resizing and straightening photos services
Skin retouching service
Lips enhancement service
Business Headshot photography retouching services
Teeth whitening in Photoshop services
Eliminating photography imperfections in Photoshop services
Body retouching service
Eyes retouching services/ears retouching services
Removing stray hair in Photoshop services
Body slimming and weight reduction Photoshop retouching services
Double chin removal in Photoshop services
Eye-Popping Services
Makeup Enhancement Services
Photo Liquefying services
Doge and Burn Tool Services
Object Removal Services
Glamour Photo Retouching and Beauty Image Editing Services for Model Photographers
SAM STUDIO is an excellent Photo Editing Service Provider for Photography Industries from European Countries like UK, USA, Sweden, Germany, Poland, Italy, Canada and other European counties. We deliver standard quality photographs on any quantity around swift clock time.
We also offer special unpaid services for our clients so that it leads you to know our image editing stuff.
For More Details,
Visit: – http://www.samstudio.co/photo-editing-service/portrait-service.php
Mail To: – admin@samstudio.co