Real Estate Twilight Photo Editing
Real Estate Twilight Photo Editing can help you build your business and client base, and it can add a high-value product to your services of twilights for real estate photography. A twilight photo is taken usually of the exterior of the property at dusk. They are more likely to grab the attention of the buyer when a home search is performed and thumbnails of properties are returned. Twilight photo editing can include multiple flash exposures, along with a sky replacement, blended together for one final, stunning composite image.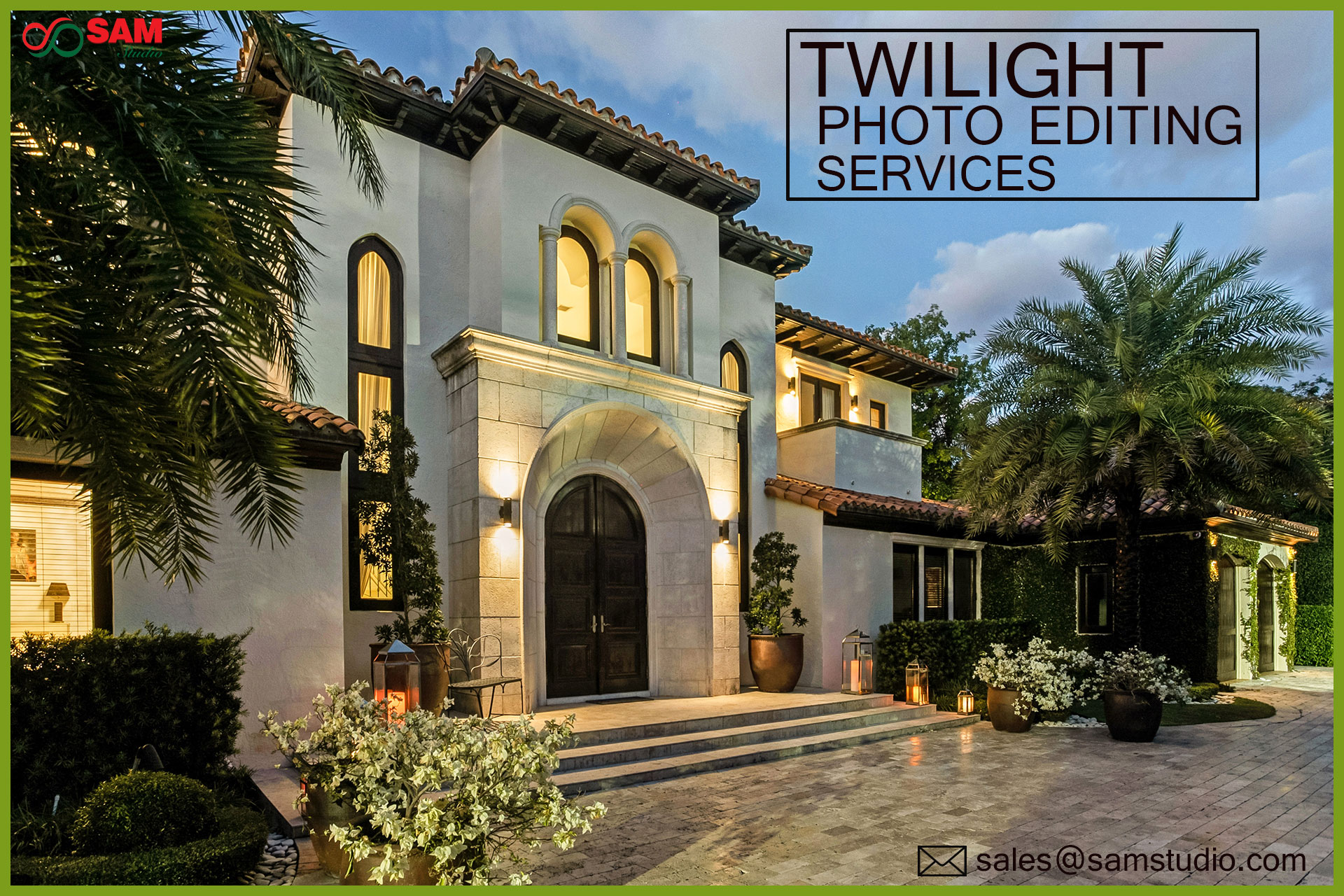 A twilight photo looks beautiful and motivates buyers to imagine returning to a warm and welcoming home each night due to the light effect. The online property market, home buyers are tending to prefer twilight photos to daytime photos. It is because dreamy and eye-catching twilight photos are different from the regular exterior shot and they can create a totally new look for the property compared to the daytime ones can. Twilight photographs will help the potential customers have a broader view of your property and make the clients believe in your selling effort. Retouching real estate property photos with day to night time photography editing services helps to convert your photo shot with an eye-popping look.
Services in Real Estate Twilight Photo Editing Services
Brightness Contrast adjustment service for real estate photos
Removing minor blemishes, dust from real estate photos
Color cast removal service for daytime photography
Adding fire to fireplaces in photography
HDR processing and HDR color correction
Adjusting multiple exposure levels in real estate photos
Outdoor dusk sky replacement in real estate photos
Turn on lighting (interior/ exterior lighting pool/garden lights)
Vertical horizontal straightening
Altering weather conditions by adding fog, rain, snow, clouds and much more
Adding special effects and environment to increase the visual impact of the photo
Casting shadow for adding depth to the image
Changing the color of the sky in Photoshop
Adding stars and the moon in the sky
Creating light and dark versions of real estate images
Adjusting the exposure of the photography services
Remove unwanted grains and noise services
Adjusting sharpness opacity and strength of the image.
Benefits of Real Estate Photo Enhancement
Cost saving along with affordability
Better and fast real estate image editing services
Build respectability and credibility
Robust social media strategy
Photo-intensive task become easier
Reuse image for better efficiency
Easy multi-platform customization
Better sales
Brand building
Faster and better services.
More Information
Mail to: admin@samstudio.co
Visit: http://www.samstudio.co/photo-editing-service/