Transcribe your audio, video, and other kinds of files into reliable file formats according to your business requirements. Get rocking transcripts to your needs from one stop transcription services provider. Industries in nowadays, struggling to maintain their documents and it is the necessary part of their job. Converting the recorded files into a suitable electronic format, HTML or MS word document is the very complex task for every professional in the growing marketing industry.
Outsource transcription services for professionals
Sam studio provides accurate, quality and fast transcription services to professionals in the various business industries. Understanding the audio and video files and convert them into suitable word and electronic formats are the hands-on experience of our transcribers. We are providing outstanding and stunning transcription services to education, public sectors, research, marketing, media and other kinds of industrial purposes.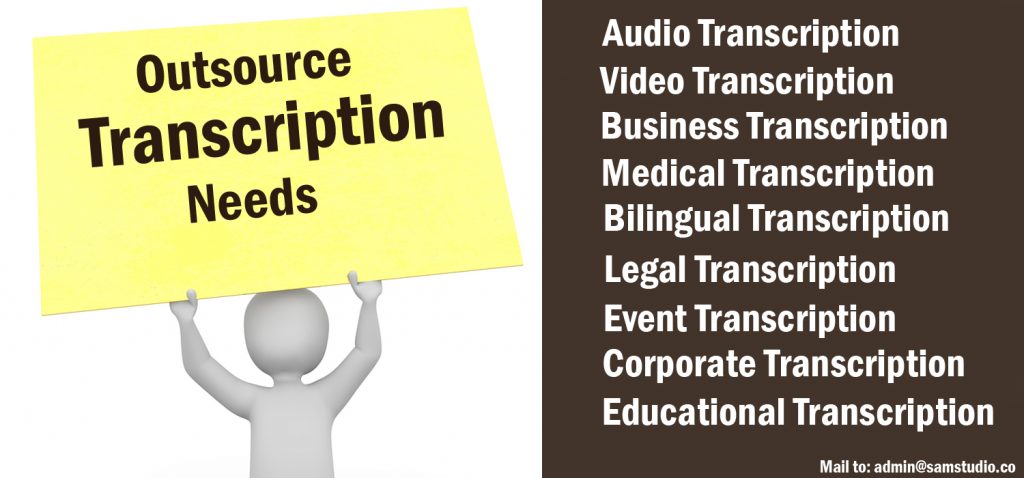 We have specialized and skilled transcription analysts who are expertise in multiple transcribing industries. Our team can brilliantly understand your business requirements and delivers fast and accurate transcription solutions at reasonable costs.
Types of outsourcing transcription services we offer,
Outsource Audio Transcription
Converting audio files and voice recorded documents for legal adversaries, business meetings, and other discussions using high-end transcription software handle by the experienced transcription specialists.
Outsource Video Transcription
The task for every video developers to make their videos are responsible for everyone. Hence, our video transcription service helps to increase the readability of your video contents. Also, make your video contents quickly read and rank by the search engines.
Outsource Bilingual Transcription
Converting audio and video documents into multi-language documents according to the need of our globalized customers in their native languages. We have the multi-language specialist to complete your task immediately.
Outsource Business Transcription
Our transcription team understands the complexities in your business elements and delivers highly accurate and effective transcription services to your business purposes and business process activities.
Outsource Medical Transcription / Pharma Transcription
Medical transcription services or pharma transcription services mainly used for healthcare industries to reduce their core business complexities.
Outsource Educational Transcription / Academic Transcription
Our transcription services help both students and staffs to satisfy their academic needs. Our educational transcription service are applicable for the following things,
Lectures
Tutorials
Seminars
Project presentations
Research studies
Outsource Legal Transcription / Confidential Transcription
Sam studio specialized in legal transcription services such as professional disciplinary purposes and court proceedings to reduce difficulties in transcribing voice recorded documents.
Outsource Event Transcription / Conference Transcription
Get highly scalable, unique, reliable and customizable transcription services for events, conference meetings etc. with attractive prices.
Outsource Corporate Transcription
Outsource transcription service for your corporate purpose. Focus on your work and get translated audio and video files into suitable HTML, MS word and Electronic file formats based on your corporate requirements.
More Links
More Information
Mail to: admin@samstudio.co
Visit:     http://www.samstudio.co/