Outsource Business Services:
Business outsourcing is to drive long-term productivity and deliver sustainable business benefits. Outsource is an efficient cost effective approach when used perfectly. Sam studios outsource business services help the clients to meet their stipulation.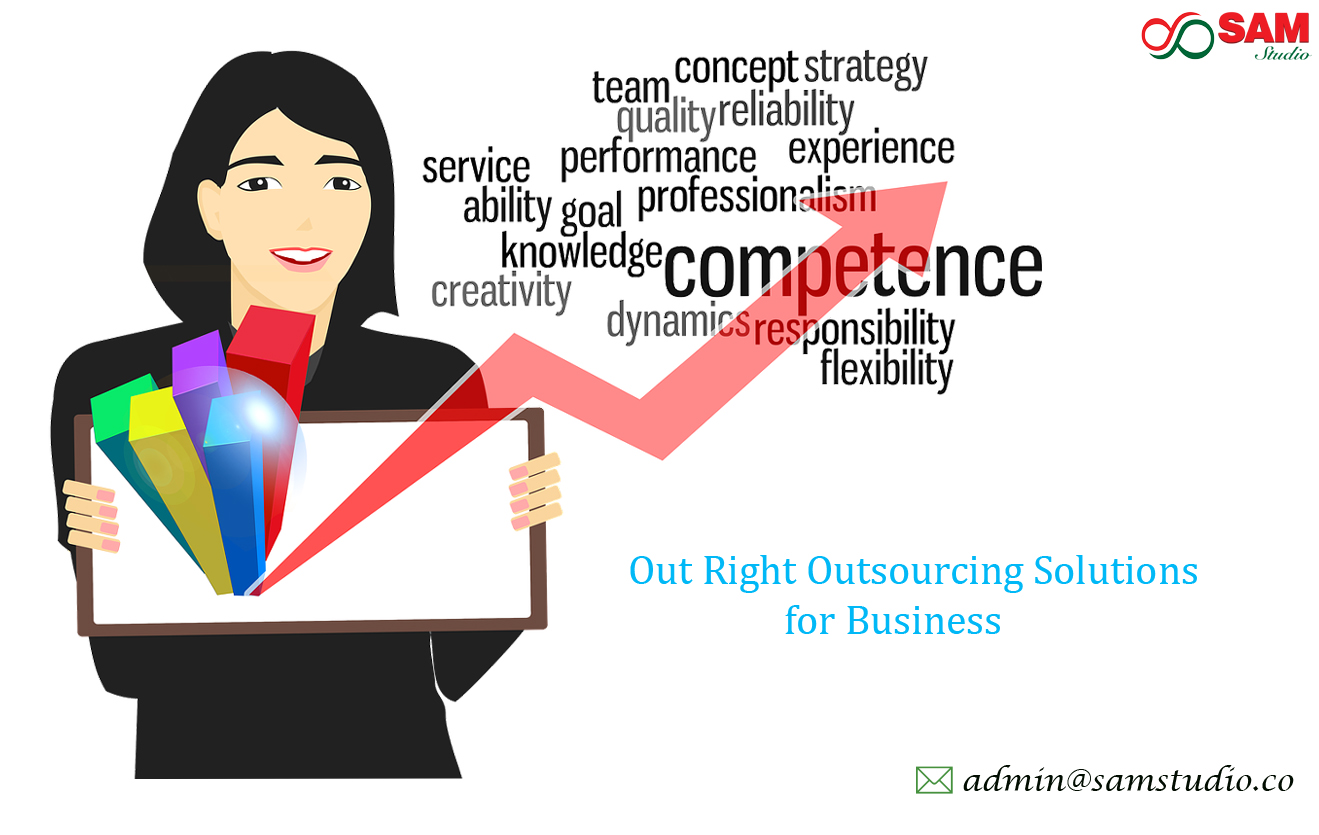 Outsource business services occur when a company acquisition services/product from outside provisional rather than operating the same task with own their own facilities to reduce cost. Outsource business services expertise involves consolidation, local delivery with central coordination, improved reporting and planning, flexibility, and visibility and much more services.
Sam Studio outsource business services associate
Call Center Services:
Sam Studio Offers the wide range of call center services with the experienced technical team of professionals. Our professional team grasps to customize and construct for outstanding support for call center services. Our specialization in call center Services involve
Inbound Call Center Services/ Inbound Services
Outgoing / Outbound Call Center Services
Computer Assisted Telephone Interviewing
Email & Letters support services
Chat Support and SMS support services
Transcription Services:
Transcription is a document which consists of transcripts of an audio or a video file. Our experts can effortlessly transcript foreign languages to perfection. Our professional transcription services involve
Audio/ Video Transcription Services
Bilingual Transcription Services
Legal Transcription Services
Business Transcription Services
Medical Transcription Services
Education Transcription Services
Data Management Services:
Dynamic data management for back office is required for most of the business. With proper data management services, the companies can easily expand their business. Data management services we offer
Data Entry Services
Data Conversion Services
Electronic Publication Services
Data Processing Services
Optical Character Recognition Services
Data Analysis Services
Data Mining Services
Creative Services:
Creative services are a vital and innovative way of storytelling which is used in the effective communicates with the audience. Our range of creative services involve
Designing Services
Creative Writing Services
2D and 3D Animation Services
Film Editing Services
Graphic Designing Services
Artwork Services
Photo Editing Services:
Photos have to spell out your business to customers through the virtually. Photo editing is an artistic work. Our professional designers can edit and retouch your photos to perfection. Our high-end photo retouching services involve
Real Estate Image Retouching Services
Photo/Image Enhancement Services
Image Manipulation Services
Portrait Editing and Retouching Services
Photo Management Services
360-Degree Panoramic Image Editing Services
Photoshop Image Clipping Path Services
Engineering Services:
Engineering services are based on dynamic business environment. The main key of engineering services is agility, enhancement, and profitability. Our specialization in engineering services involve
Mechanical Engineering Services
Architectural Engineering Services
Civil Engineering Services
Structural Engineering Services
Electrical Engineering Services
Software Development Services:
Sam Studio offers to outsource business services for the complete range of custom software development for a wide scope of business domains. Our professional software services involve
Custom Software Development Services
Mobile Application Development Services
Windows XP migration Services
Maintenance and Support Services
Software Testing Services
IT Consulting Services
Financial and Accounting Services:
With advanced cloud-based processing platforms, we can redefine your business and take your business to new levels of our professional financial and accounting services. Our specialization in financial and accounting services include
Accounting Services
Financial Analysis
Bookkeeping Services
Tax Preparation Services
Payroll Management Services
Invoice Processing Services
Health Care Services:
Sam Studio provides Reliable and ethical health care services. Our desire is to provide exceptional health care services according to got business needs. Health care services we expertise
Medical Billing and Coding
Medical Transcription
TeleRadiology
Health Care Software Development
Claim Adjustment Services
Medical Animation Services
Digital Marketing Services:
Online marketing has evolved and reached a most competitive in the business market. Sam Studio is a one-stop digital marketing company for complete digital marketing services. Digital marketing service we expertise
SEO [Search Engine Optimization] Services
SMM [Social Media Marketing] Services
ORM [Online Reputation Management] Services
PPC [Pay Per Click] Services
SEO Consulting Services
E-Mail Marketing Services
Local SEO Marketing Services
Research and Analysis Services: 
Sam Studio has a wide-ranging experience in developing and handling research on various business fields. We have developed and executed scheme and plans for commercial and non-commercial purposes. We expertise research and analysis in field of
Market Research Services
Financial Research Services
Pharma Research Services
Quick KPO solutions
Media Research Services
Research Report Services
Web Design & Development Services:  
The website is a pivotal hub for communication and marketing efforts. Our professionals are expert in designing your website according to business current trend. Our expertise in web design and development services involve
E-Commerce Web Maintenance
Web Designing and Website Redesigning
Web Content Production/Web Content Writing
Web Hosting Services
Web Research Services/Internet Research Services
Advantages/ Benefits of outsourcing Business Services:
Business focus
Controlling Costs
Successfully Managing Projects
Reducing Risk and Enhancing Controls
Successfully managing Projects
Reducing Risk and Enhancing Controls
Flexibility
Monitoring and Customer Satisfaction
Sam Studio offers a complete range of outsourcing business services according to the requirement of the company with an affordable cost. We provide 24/7 customer support. For more information contact us on admin@samstudio.co